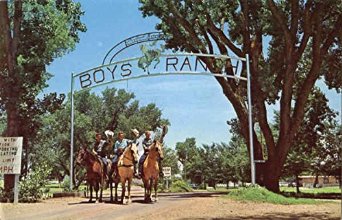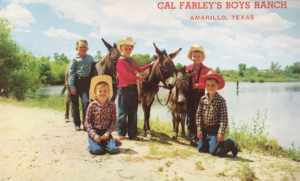 "A sense of safety is vital to a child's ability to reach his or her full potential."
— Website of Cal Farley's Boys Ranch
Since 2017, the Child-Friendly Faith Project has been advocating for men who grew up at Cal Farley's Boys Ranch from the 1960s through the 1990s. The privately funded, residential facility is located outside of Amarillo and houses boys whose parents or guardians can't, or won't, take care of them.
The men, as child residents at Cal Farley's, suffered ongoing physical, sexual, and emotional abuse. After leaving the ranch, many men lack skills needed to find work. They have struggled with addiction or gotten into trouble with the law. Others have committed suicide.
Click here to read our "Healing Through Truth" proposal delivered to Cal Farley's Boys Ranch on April 21, 2017.
Early this year, we reached out to Cal Farley's CEO Dan Adams and asked that the institution fulfill requests made by the survivors, such as issuing a public apology, making restitution, and being truthful in its marketing. All of the requests were denied. Then a feature story in The Guardian exposed the abusive past of this nearly 80-year-old institution—a past that had been kept secret, until now.
"For a child, living with chaos and unpredictability often creates a feeling of powerlessness or a 'learned helplessness.'" (Website of Cal Farley's Boys Ranch)
How we got involved
If you grew up in Texas, particularly in North Texas, chances are good you know about Cal Farley's Boys Ranch. For decades, there had been murmurings that the place was very strict. In fact, it wasn't uncommon for children to be told, "If you don't behave, you'll be sent to Cal Farley's." But it wasn't until I wrote a favorable blog post about the institution that I learned the harsh truth about its history.
Read the blog post here and comments that followed, written by abuse survivor Steve Smith.
The facility was started in 1939 by Cal Farley, a man who was a wrestler and tire salesman with no training in child development. Since then, the facility that bears his name has glorified its founder and the institution in its marketing material that seeks donations from the community.
What was really going on was systemic and severe physical and emotional abuse. While the ranch often promoted itself as a caring place, we now know that that was a smokescreen. To make matters worse, in 2017, Cal Farley's dedicated a dorm building to its longtime employee, Lamont Waldrip, who retired in 1997. Those who lived at the ranch during Waldrip's tenure, say he was one of the worst abusers. He also served as superintendent, overseeing the system that continued to brutalize boys.
"A child who lives in an emotional state of self-preservation and fear feels insignificant, even irrelevant." (Website of Cal Farley's Boys Ranch)
Abuses come to light
On December 20, The Guardian published a story that detailed the abuses suffered by boys who lived at the ranch from the 1960s and into the 1990s. It talked about the role of the Child-Friendly Faith Project to advocate for survivors, as well as the institution's refusal to acknowledge that abuses occurred, apologize to survivors, or make restitution to them.
Click here to read The Guardian feature story, "The Texas boys were beaten, abused, raped. Now all they want is an apology."
The Guardian story was the second-most viewed article on its site. Both survivor Steve Smith and I have conducted numerous media interviews. Then we got the news that, on the day the story broke, Cal Farley's CEO Adams had apologized, both while being interviewed by a local TV station as well as in a press release. Unfortunately, the so-called "apology" was too little, too late.
Click here to see the Dec. 20 statement issued by Cal Farley's Boys Ranch.
In response, we issued a press release of our own that criticized the organization for hastily drafting a document that was disrespectful to survivors.
Click here to view the Dec. 20 press release sent by the Child-Friendly Faith Project.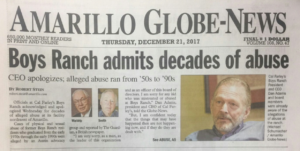 On December 21, the story made the Associated Press and was picked up by US News & World Report and many other outlets. On December 24, the Amarillo Globe-News published a scathing editorial demanding that Boys Ranch be transparent about its abuse prevention policies. "For example," wrote the editors, "is there a way for children at Boys Ranch to report claims of abuse without facing repercussions?"
Click here to read the Dec. 23 editorial by the Amarillo Globe-News.
A prominent ex-rancher tells his story
That same day, the paper published an article that featured the story of a prominent individual. Bill Sarpalius, a former US Congressman who had also served in the Texas State House of Representatives, described a harrowing childhood at Cal Farley's as a victim of sexual and physical abuse.
I was quoted in the article, stating that when well-known individuals acknowledge that they have been victims of abuse, it empowers survivors. I noted that many Cal Farley survivors, as children, tried to speak out and tell adults they were being abused or had witnessed abuse, only to be rejected, and sometimes punished. "We are grateful to Mr. Sarpalius for his courage and compassion."
What the Amarillo community needs is to know that Boys Ranch is taking these allegations seriously, which means being transparent and open in what it did, what it does now and what it will do in the future. (Amarillo Globe-News editorial, Dec. 23, 2017)
Our goal has remained the same: to advocate for survivors of Cal Farley's Boys Ranch. They have told us they want the institution to pay them monetary compensation (many don't have the means to pay for counseling), remove the name of Lamont Waldrip from the newly constructed dorm building, and assure them and the public that children who currently reside there are safe.