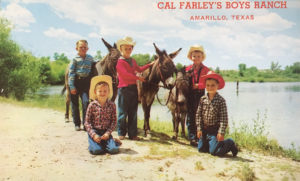 For more than 50 years, the disadvantaged children under the care of Cal Farley's Boys Ranch suffered severe physical, sexual, and emotional abuse. The Child-Friendly Faith Project is organizing a reunion for survivors and their loved ones so they can find community, support and healing.
The reunion, which will take place on Aug. 31, in Amarillo, Texas, will offer survivors a chance to reconnect with old friends and meet new ones. Many need our help paying for travel and accommodation expenses. To make sure all survivors have emotional support, the CFFP has arranged for a local therapist who specializes in childhood trauma to be on call.
Yes, I want to help Boys Ranch survivors!
Boys Ranch, as most people call it, is a privately funded facility begun in 1939 by Cal Farley, a professional wrestler and tire salesman who had no training in child development. Since then, the institution (which currently has a budget of $48 million) has sought donations from the community by marketing itself as a place that meets children's needs.

What really was going on was ongoing, systemic, and severe physical, sexual, and emotional abuse. To make matters worse, last year, Cal Farley's Boys Ranch dedicated a dorm building to Lamont Waldrip, a man who many survivors say brutally beat children and oversaw the abusive system as superintendent for many years until he retired in 1997.
Last December, the truth came out when an article as published in The Guardian. Soon after the news broke, Boys Ranch CEO Dan Adams admitted that the abuses had, indeed, taken place and offered a weak apology.

It's unclear how many children have been victimized at Boys Ranch. According to its website, about 12,000 young people have lived at the campus in its 78-year history. A Cal Farley's Boys Ranch Survivors Facebook group currently has 80 members. The CFFP has heard from men and women who say they were abused in recent years.
Please help Boys Ranch survivors and their loved ones find community, support, and healing at the Aug. 31 reunion by donating today. Even $5 could help us achieve our goal of ensuring that no survivor is prevented from attending this first-of-its kind event.
Please provide your credit card information below. Or scroll down to pay with PayPal.

You may also send a check to: Child-Friendly Faith Project, P.O. 14181, Austin, TX 78761.
Please write on your check "CFBR." Thank you!