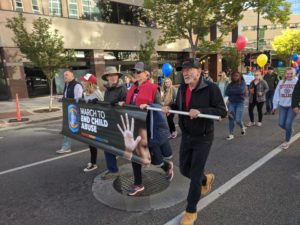 On Saturday, October 5th, I had the honor and privilege of participating in the inaugural Protect Every Child march in Salt Lake City, Utah. This march, organized by child advocate and former LDS bishop Sam Young, aimed to end child abuse by bringing awareness to how common abuse is and best practices for preventing it. An estimated 3,200 people showed up for the historic march—this is the first major march to advocate for children's rights to be free from abuse and neglect.
Sam Young first made news in the LDS church when advocating against so-called "worthiness interviews": one-on-one interviews between LDS bishops and children about sexual habits, thoughts, orientation, etc. These interviews have caused immense trauma to children and have been breeding grounds for abuse. Instead of heeding Young's advice about the dangers of these interviews, the LDS church excommunicated Young.
While Young's advocacy originally focused on LDS children, he has since expanded the focus of his advocacy to include all children who experience abuse and neglect. Every single child, he often explains, has the right to a happy, safe childhood. This necessitates that adults step up and do their best to protect children's rights.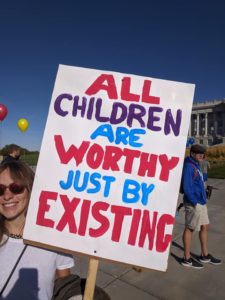 I attended the march on behalf of the Child-Friendly Faith Project. The Child-Friendly Faith Project brings awareness to religious child maltreatment—child abuse and neglect motivated by religious belief, doctrine, and practice. We were thrilled to partner with Young and be a coalition member for the march. I personally had a wonderful time at the event, connecting with fellow advocates and marching with people of all ages and faiths who are passionate about safeguarding children. I marched because, as an abuse survivor myself, I want every single abused child to know that they are not alone and that there are many people out there fighting for them.
1 in 4 girls and 1 in 6 boys will be abused during their childhood. This statistic—featured prominently and spoken repeatedly during the march—should awaken people of all walks of life to the pervasiveness of abuse and the dire necessity for effective prevention strategies. I hope and pray that Young's efforts through the Protect Every Child march are the beginning of a new era in child abuse awareness and prevention, where we work across politics and faith towards the common goal of protecting all children.