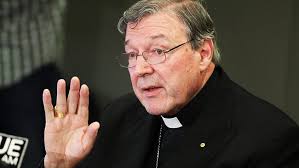 Cases of child sexual abuse in the Catholic Church are so prevalent, we tend not to pay much attention to them. But child advocates are keeping a close eye on one case that could mark a new beginning in how the church and outside authorities hold high-ranking church officials accused of sexual abuse accountable.
Cardinal George Pell, a top advisor to Pope Francis, has been charged with multiple child sexual offenses in Australia. A the age of 76, Pell is the highest-ranking Vatican official to be formally charged for sexual offenses. While details of the charges have not been made public, they are said to be "historical," meaning that the alleged crimes occurred long ago and involve multiple accusers.
Two men, now in their 40s, say Pell touched them inappropriately at a swimming pool in the late 1970s when Pell was a senior priest in Melbourne. Lyndon Monument told ABC in July of last year that Pell would "play games" that would lead to Pell "touching your genitals and stuff" under the water. Pell has strenuously denied all accusations.
The Pell case is an embarrassment for Pope Francis who declared "zero tolerance" of sexual abuse within the clerical ranks. While he has met with victims, Francis has been criticized for moving too slowly in confronting the church's institutional resistance to transparency and accountability.
In fact, many see Pell as a product of that resistance. He has been criticized for mishandling allegations of abuse in Australia when he led the archdiocese of Melbourne and then of Sydney. In one trial, Pell accompanied the accused priest rather than the victims.
Things do seem to be changing. The Archbishop of Sydney, Anthony Fisher, has said the church won't pay for Pell's legal defense. That's a stark difference from how the church handled cases in 2014, when Catholic orders in Australia paid tens of millions of Australian dollars in legal fees and settlements on behalf of priests accused of sexual abuse.
Child advocates are pleased that authorities are taking a tougher stance in prosecuting Cardinal Pell, but it's uncertain whether this will mean a significant turning point in how Pope Francis and the Catholic Church as a whole deal with such cases.
Many in the church continue to oppose legal requirements to report suspected cases of child sexual abuse, especially if abuses are heard in confession. The Archbishop of the Archdiocese of Melbourne, Denis Hart, recently said he would risk going to jail rather than report allegations of child sexual abuse heard during confession.
For now, Pope Francis is holding judgement on the Pell case, saying he wants to wait for justice to run its course in Australia. A hearing has been scheduled for March—where at least 50 witnesses are expected to testify—at which time a court will determine whether Pell will stand trial on historical sex offense charges.