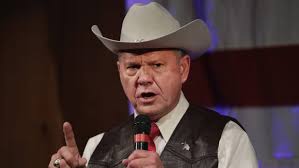 More than 100 Alabama Baptist pastors have signed a public statement denouncing "sexual abuse, assault, harassment, and exploitation of women." Christa Brown, a survivor of sexual abuse, an outspoken critic of the Southern Baptist Convention, and a board member of the Child-Friendly Faith Project, responds.
To Baptist Pastors of Alabama:
I am puzzled. You have joined in on the #MeToo movement to make public your opposition to sexual abuse, harassment, and assault, yet you have avoided any mention of the elephant in the room: Roy Moore.
Moore, a Southern Baptist churchgoer and US Senate candidate, has been accused by multiple women of having sexually harassed and assaulted them when they were in their teens and he was in his thirties. One of the women said she was abused by Moore when she was 14.
The people of Alabama have an important decision to make: whether a man with multiple corroborated allegations of sexual abuse, including allegations involving minors, is fit for the US Senate. Yet your statement of generalities says nothing about the man that Alabamians are hearing about in the news every day. Read More »